If you read the last article in Season 2, our unwitting subject Sam and his best friend Ralph spent a great deal hiding in the man-cave commiserating over Sam's cheating wife. At least they think she is and the problem about busting her is that it hurts. Sam likes his life, having a nice suburban split level, a corvette and a great income from his own business. He knows his wife is smokin' hot and she knows it too. Sharing that is not an option and Ralph commenting on her shorts is not helping.
Do you suspect your wife cheating?
—
Back to the matter at hand. Sam is all about finding out if she's cheating for free, and knows her online habits may be the key to the truth and expose her for adultery. The main point here is free, Sam is by no means cheap and would drop 20K tomorrow on therapy and counseling if it were to make things right with her. Sam's wife, Cheri (Mon Cheri Amour sometimes) juggles an active lifestyle, loves to swim, do yoga 3 times a week and is a tennis babe. The opportunity for other men to see her is not lost on anybody, including herself, those yoga pants and tennis thing that covers nothing? Come on !!!
Ralph has a collection of Youtube videos that rank high in his library of "How to's" for just about anything. Why married people stray for intimacy is a top search subject and he's determined to help his friend overcome the dilemma.
They continued to discuss using tech to track her activities but also were concerned about the legality of themselves being caught doing something treasonous to Sams wife were she to catch on to the scheme.
It's easy to search online and come up with people and truth finder sites, even software you can text to your spouse which unknowingly compromises the device which is highly illegal in some states, if you don't actually own the device. Plus how embarrassing for Sam. He asked Ralph "wouldn't it just be easier to confront her". Ralph is not suspicious of Sam's wifes cheating for nothing, he was the one who told Sam he heard a guy at the club musing over her alleged wandering. It's definitely got his goat.
One thing they continued talking about was the shared email account that could be innocently used to map Cheri's travels but ONLY if she were to actually stray far while Sam was on a business trip and she went outside her usual travels. If she were cheating closer to home it would be hard to define what an unusual stop in her routine might be.
Once Sam tells her they need a shared email for online shopping deliveries to track on her phone, the part about easing into the conversation has to be solid and more of a btw "I want you to know when the gifts I shower you with are arriving when I'm out of town"…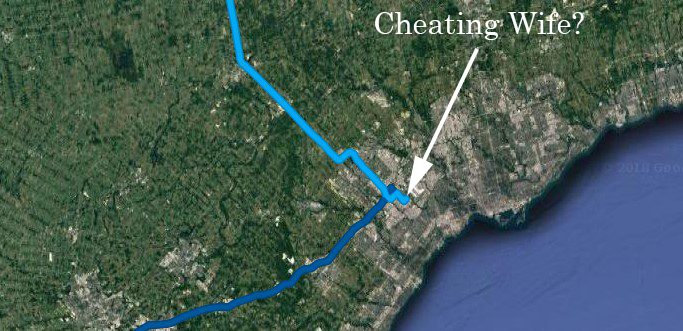 We didn't get a chance to interview Sam or Ralph again since out last outreach. Part III should be the most interesting article yet, stay tuned to our blog categories for cheating spouses. Did they Cheat is committed to not only telling stories about infidelity, but to use the online tools right here to see if your significant other may be listed as an alleged cheater online free.